Multiple Channels High Efficiency, Responsibility, and Precision In One Machine
The OPM Series is a high performance, accuracy, and efficiency programmable DC power source. Designed with simple to organize and easy connectivity and capable of increasing the power supply capacity with maximum expansion up to 255 channels. OPM Series supports RS-232C and GPIB and optional IEEE-488.2 interface based on SCPI protocol. OPM Series has the flexibility to be installed either on stage or be mounted in a 3U 19" half rack to fit in different space setting. OPM Series is suitable for any application that requires a cost-effective power source.
Experience the Whole New Stability
With Temperature Compensation Circuit and real-time measurement delivers the most stable voltage during conducting a test. This is critical especially when the running test for a long period of time, sudden temperature change or other external factors may influence the test results.
The Ideal Choice for Precision Power
OPM Series provide the sensing terminal that is capable of compensating power output when the voltage is lost due to some resistance such as cable. This enhances overall output precision and ensures the power output is accurate as possible.
Controlling Various Channels at Once
Optimize the efficiency of power supply in manufacture's production line with tracking mode function. This allows powering various channels with the same voltage, current and all function in one button, this is extremely beneficial when one channel is already occupied in one production line and is ready to expand on other.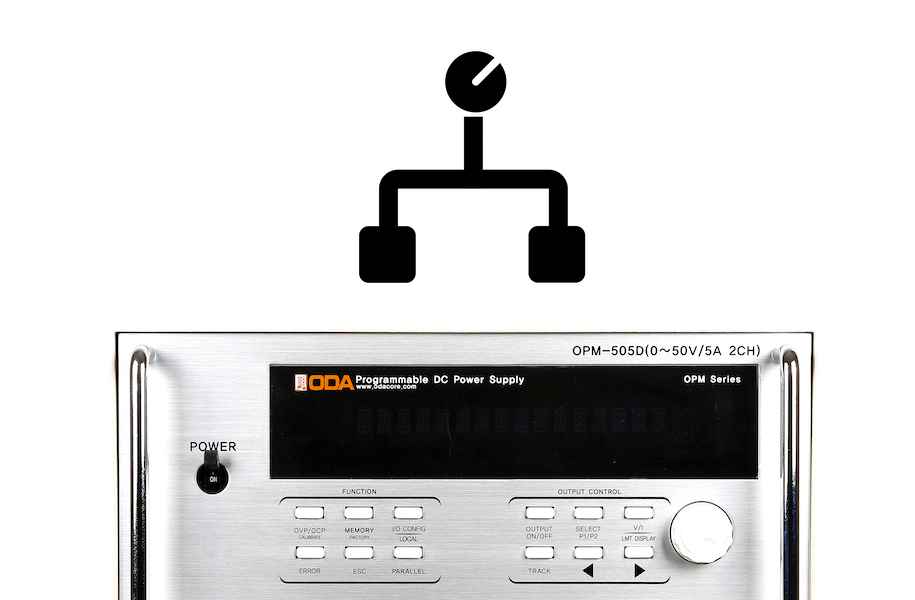 The Settings that Keeps Going
OPM Series Factory Mode remembers the most recent settings such as voltage and electric current in each channel even when it is turned off and on again. This enhances the overall work productivity without the redo of settings again.
Specifications
Can't decide which model is right for you?
Or need product demonstration?
OPM-181D
OPM-303D
OPE-803D
Output Rating
0~18V, 0~1A, 2 Channel
0~30V, 0~3A, 2 Channel
0~80V, 0~3A, 2 Channel
Programming/Read back Resolution
≤100μV / ≤10μA
≤250μV / ≤30μA
≤1mV / ≤10μA
Display Meter Resolution
1mV/100μA
Programming Accuracy
(@25°C±5°C)±(%of output + offset)
0.05%+3mV/0.15%+5mA
0.05%+10mV/0.15%+5mA
0.05%+40mV/0.15%+5mA
Read back Accuracy
(@25°C±5°C)±(%of output + offset)
0.05%+2.5mV/0.08%+3mA
0.05%+5mV/0.08%+3mA
0.05%+20mV/0.08%+3mA
Ripple & Noise
≤2mVp-p, ≤2mArms
≤0.01%mVrms, ≤2mArms
Load Regulation
2mV, 500μA
3mV, 500μA
Line Regulation
500μV, 500μA
1mV, 500μA
Command Processing Time
<47ms
Voltage Programming Speed(No load)
Rising time: ≤7.5V/ms
Falling time:≤3V/ms
Transient Response Time
Less than 50μs for output to recover to with in 15mV Following a change in output current full load to half load or vice versa.
Dimension (mm)
Width x Height x Depth
213x132x370
300x150x465