ESM-500 MultiPRO Electrical Safety Platform
Generating the efficiency that turns the ideal into reality. 
A flagship that continues our legacy for quality, with a revolutionary take on safety testing .
MultiPRO Electrical Safety Platform is a modular safety tester for optimal configuration. Combining our legacy of high quality and accuracy with scalable mix-and-match modularized design, making it a true flagship that can cope with strict safety standards and meet the demands of emerging industries.
Safety and Productivity Features
Multi-functional modules design, defines your combination of solution
MultiPRO delivers ACW, DCW, IR, Continuity multi-functional modules. Mix-and-match your best solution according to your needs.
EEC legacy safety specification now in smaller and flexible packages
Same output deliverable as legacy EST-300 series high performance tester is now in multiple and flexible module, fulfilling different industries and application needs.
Superior Testing Speed
Every second counts on production lines. Shorter test duration means higher production output and more profit. MultiPRO's unique design enhance both test initialization and step linkage speed resulting in 42%* reduction in overall testing time.
Up to 100 channel synchronized testing
Connect a maximum of 10 systems to perform simultaneous and synchronized electric testing. Optimizes overall testing speed.
Single/dual channel independent module design
This series adopts a fully isolated and independent channel design to ensure the highest stability of the system and minimizes the interference between channels.
Simplifies spare parts demand, no need to purchase the entire system. Easy on production maintenance
The fully modular design greatly reduces maintenance and spare parts costs. Quickly swap the back-up module to minimize production downtime.
Independent test result identification
Test results from each channels can be identified independently, reducing errors and boosting production efficiency.
Optimized Thermal Efficiency
Temperature is the key to system stability. Poor fan ventilation often cause overheating issue. MultiPRO's unique mechanical and independent fan design allows efficient ventilation. Smart fan management further delivers cool, stable operation and quietness inside.
Simple and intuitive operation
The built-in processor allows scan and collects data directly without connecting to a computer. Less is more.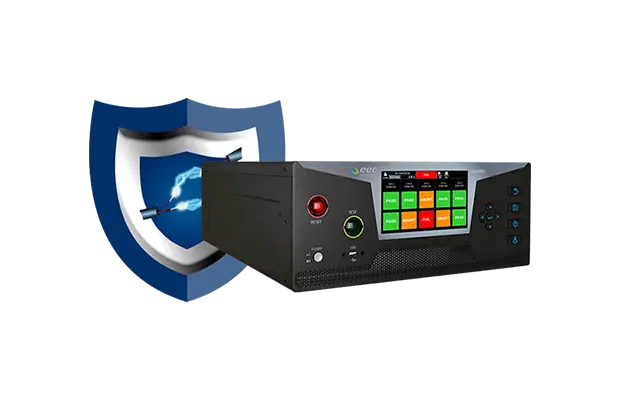 EEC proprietary ARC detection
Consolidated 40 years of experience in forming a unique ARC detection function that ensures peak quality assurance applies across your products.
Same in Performance, Smaller in Size
Offering the same amount of channels while taking up way less the space, MultiPRO can help improving space utilization. Approx. 60% size reduction
For more details download the full documentation here
Modular Terminal
| | ESM-500 MultiPRO Electrical Safety Platform |
| --- | --- |
| Support Module (QTY) | 5 |
| Support Channel (QTY)(QTY) | 10 (Max.) |
| Linked Devices | 10 (Max.) |
| Dimension (W x H x D, mm) | 430 x 178 x 570 |
| Weight | 16.2kg |
Testing Module
ESM-510
ESM-530
ESM-531
Function
ACW
ACW+DCW+IR
ACW+DCW+IR
Channel
2
2
1
ACW
5KV/10mA
5KV/10mA
5KV/20mA
DCW
-
6KV/6.5mA
6KV/7.5mA
IR
-
0.500MΩ - 50GΩ
Dimension (W x H x D, mm)
430x133x400
Weight
5.8kg
5.8kg
4.4kg
Current Firmware Version :
ESM-510:V1.00.00     ESM-530:V1.00.00     ESM-531:V1.00.00