8500 Series Programmable AC Power Source
Pure Power, Pure Performance
The 8500 series is the next generation high-performance programmable AC power source EEC ever created. Designed completely with the end-user in mind. The 8500 series provide rich functionalities and product selections. Making it the ideal and cost-effective solution for all kinds of applications.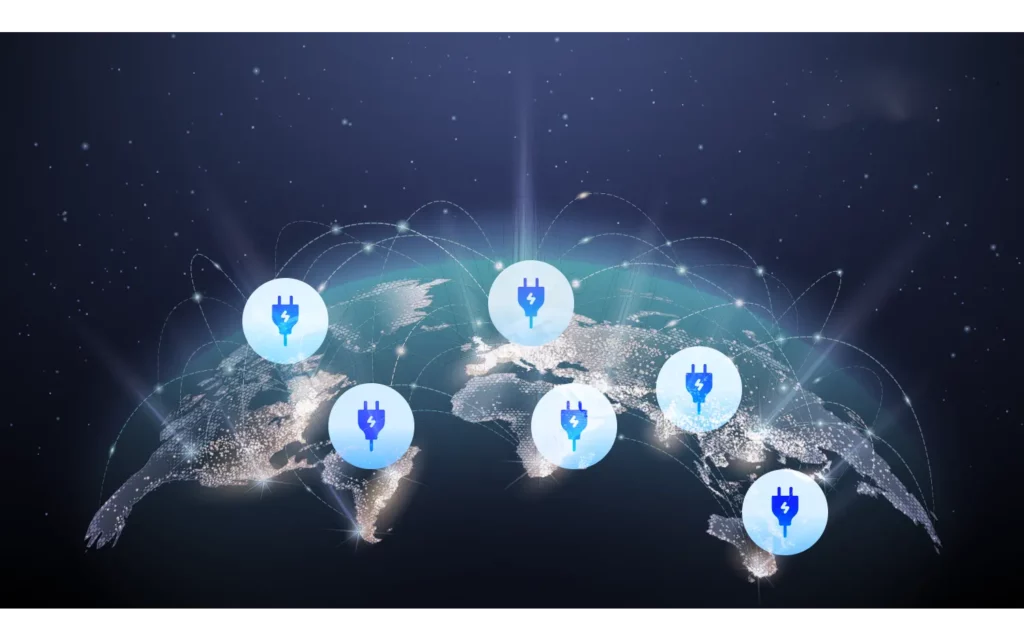 Surpassing the world electric demand
The world and product use on electricity differently. 8500 series capable of outputting AC, DC, or AC+DC modes meeting numerous power demands. With wide ranges performance of up to 310V output voltage, 1,200Hz frequency, and various waveforms. Simulate real-world power distribution conditions at anywhere.
Detail simulation just got a lot easier
For Lab and quality assurance, a variety of pulses, and spikes simulation is critical. 8500 built-in modes that is pre-compliance testing according to IEC 61000* standards. To simulate common grid faults, voltage dips, and other power abnormalities.
*The IEC 61000 standards tested includes IEC 61000-4-11,34. Some conditions may apply. Contact EEC sales representatives for the complete information.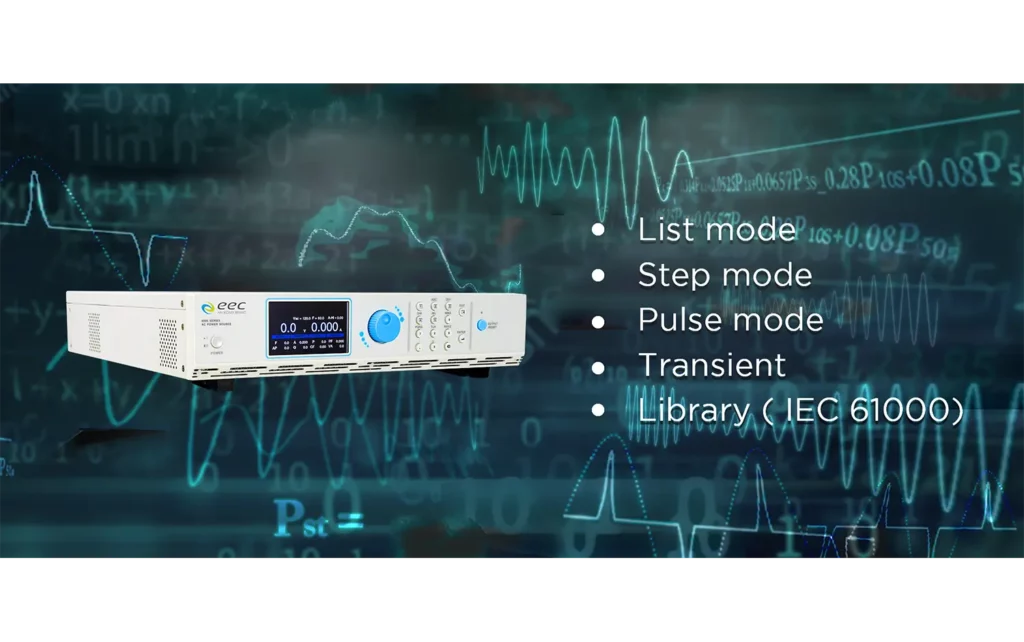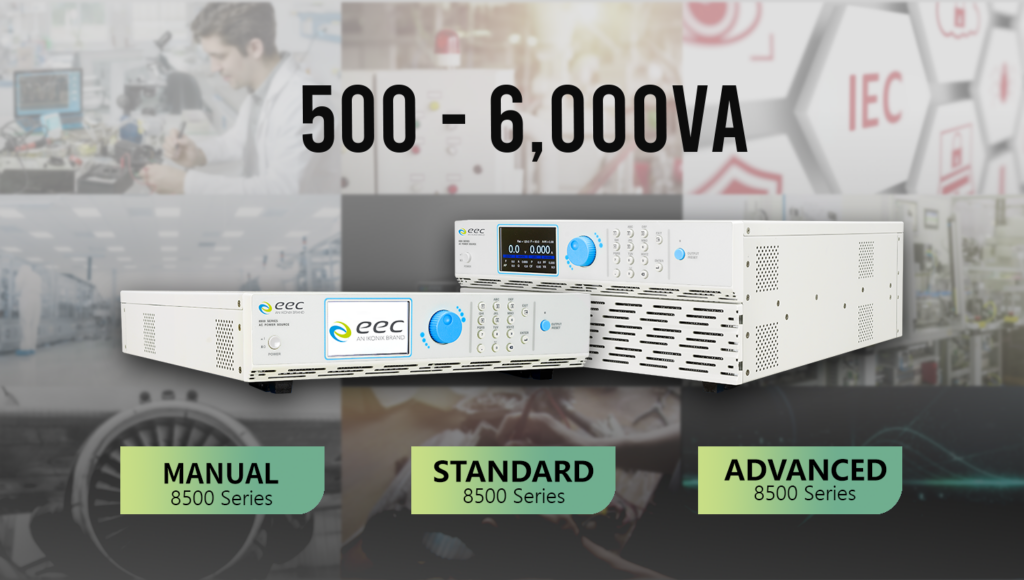 18 combinations, empower your selection
Available in 6 various capacity models, from 500VA to 6,000VA and 3 level of upgradeable performance packages position for different needs. A simple choice on right product for the right use at the right price.
The Right Package That's Best For Your Application
3 level of performance package that tailor for different testing scenarios. Manual mode is designed for specific operation role or environments, such as basic power supply use in application service departments. Standard mode includs communication interfaces to control the power sources and collect testing data for automated production lines purposes. Advanced adds the waveform interference simulation, which overall sets a stricter testing condition for product quality.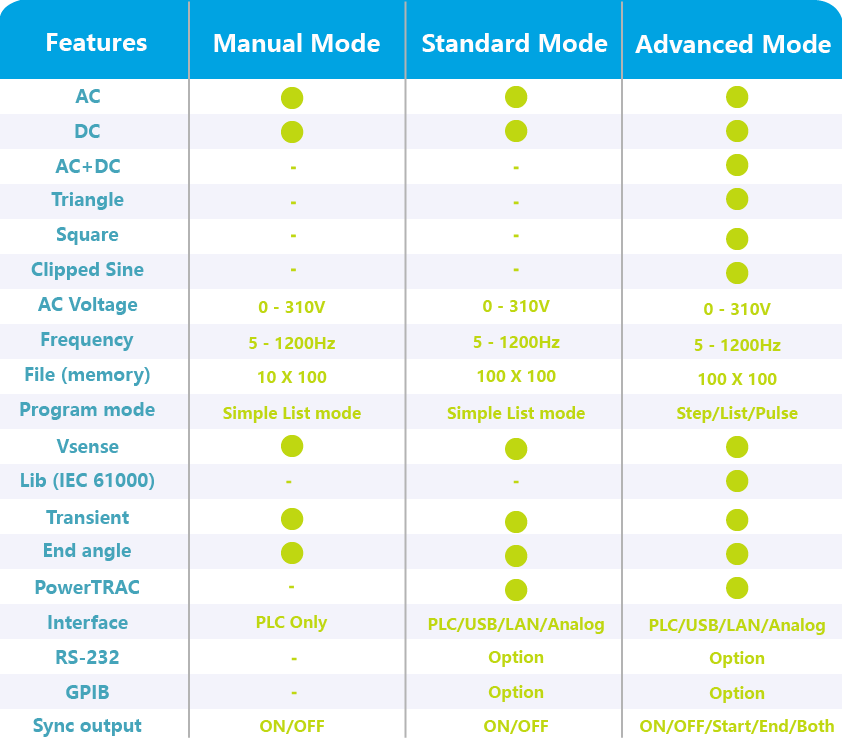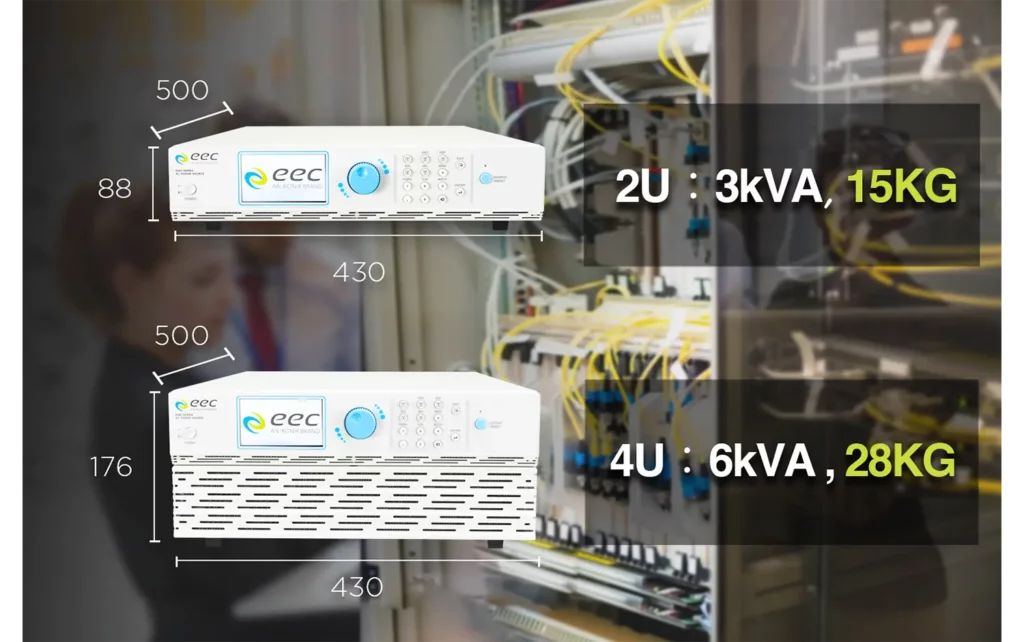 Made it compact, make it spacious
The advanced high power density technology designed to establish ultimate compactness. Fitting up to 3kVA of power into common standard 2U size and 6kVA into standard 4U size. With 6kVA weight only 28kg.
Performance and quiet comes together
With superior mechanical engineering design plus quiet durable fans. The heat dissipates quickly on the instrument. Helping maintain high performance in harsh manufacturing environments. And keeping low noise for a safer working condition in quiet environments.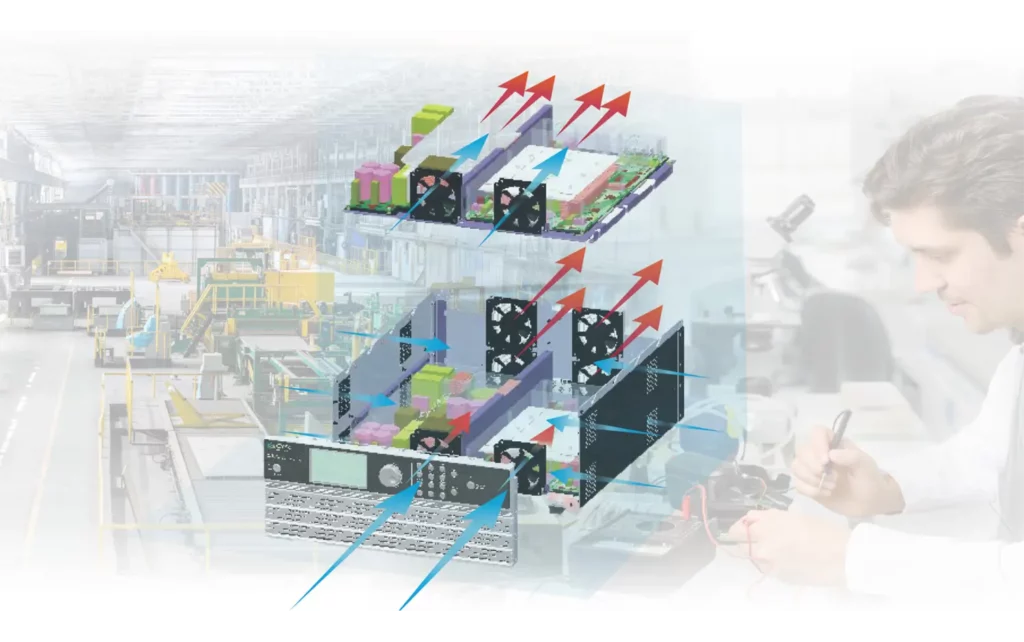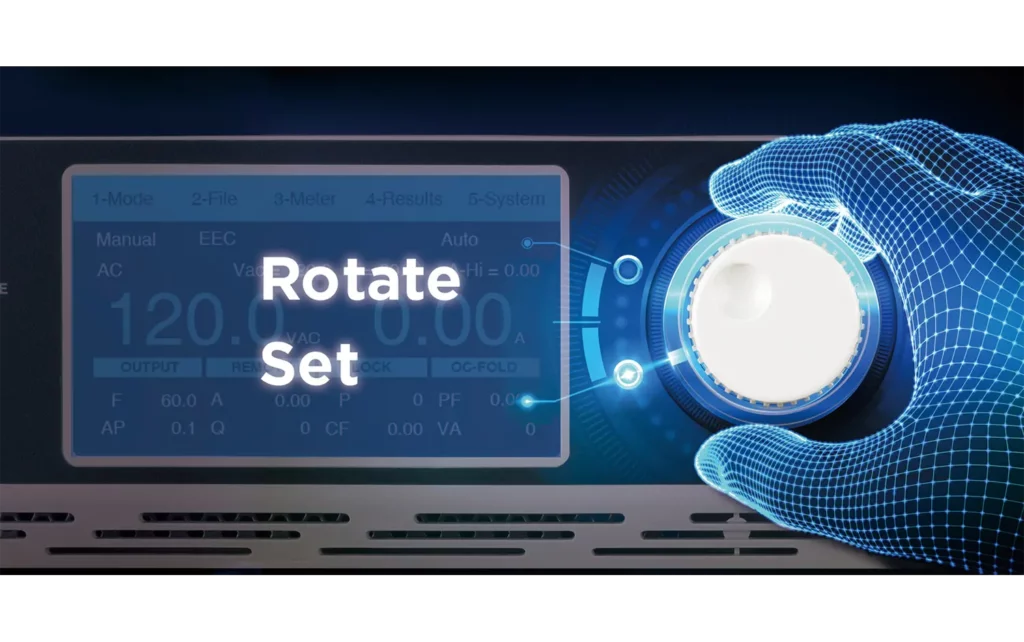 Simple and intuitive user interfaces, speedy and controllable operations
Flexible rotating knob and numeric touch control, plus intuitive user interface results faster operation efficiency. Anyone can easily pick up and get started in no-time.
Setup, Monitor, and Operate Remotely via PowerTRAC Software
In IoT era, data and connectivity matters. PowerTRAC is EEC proprietary software on power source meeting this. Empowers 8500 series in full remote control. While generate data reports for future analysis.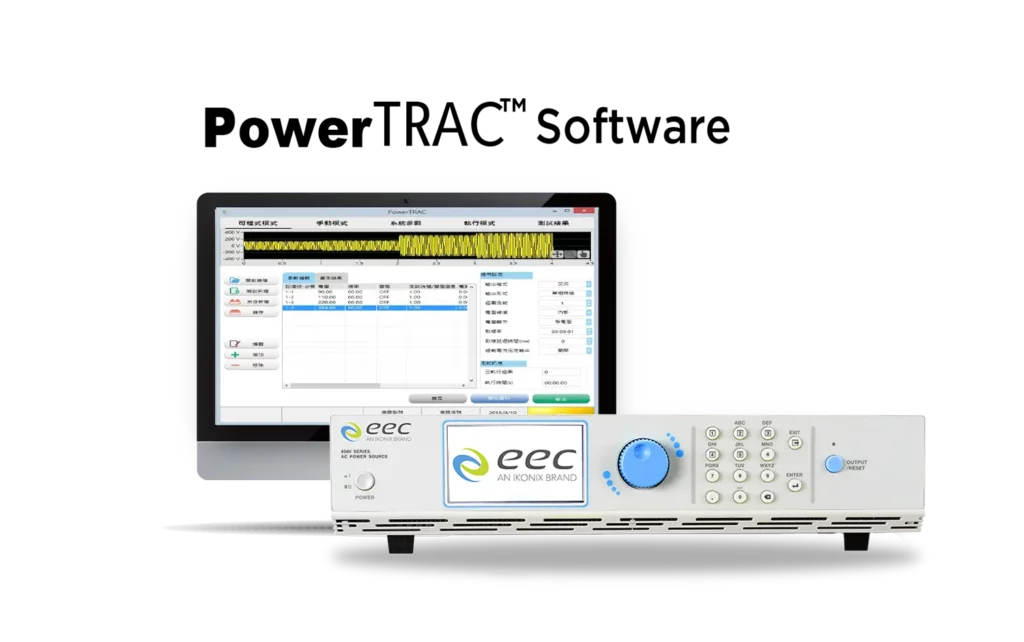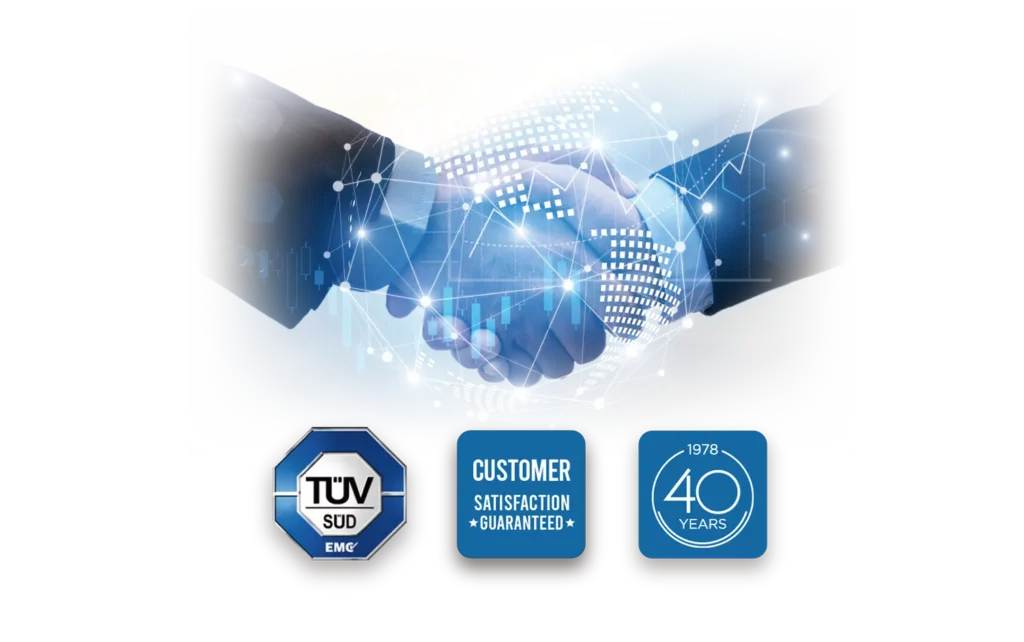 Premium Built Quality and TÜV certificated
The quality and reliability we've committed, started from designed, material used, to harsh environmental test, where every detail is checked. Certified by CE,UKCA and, TÜV, makes 8500 series the world class safe and reliable AC power source.
For more details download the full documentation here:
8505
8512
8520
8530
8540
8560
AC OUTPUT
Max. Power
500VA
1250VA
2000VA
3000VA
4000VA
6000VA
Max. Current
(0 - 155Vac)
5A@100V
12.5A@100V
20A@100V
30A@100V
40A@100V
60A@100V
Max. Current
(0 - 310Vac)
2.5A@200V
6.25A@200V
10A@200V
15A@200V
20A@200V
30A@200V
Phase
1Ø2W
Frequency Range
DC, 5 - 1200Hz Full Range Adjust
Total Harmonic Distortion (THD)
≦0.3% @ 50/60Hz (Full Resistive Load)
Crest Factor
≥3
≥3
≥3
2.5
≥3
 2.5
DC OUTPUT
Max. Power
300W
750W
1200W
1800W
2400W
3600W
Max. Current (0 - 210V)
3.0A
7.5A
12.0A
18.0A
24.0A
36.0A
Max. Current (0 - 420V)
 1.5A
 3.75A
 6.0A
 9.0A
 12.0A
 18.0A
INPUT
Phase
 1Ø
 1Ø or 3Ø
Voltage
100 - 240 V ± 10%
200 - 240V ±10%
1Ø / 3Ø3W: 200 - 240V ± 10%
3Ø4W: 346 - 416V ± 10%
Frequency
 50 / 60Hz
Power Factor
≧ 0.93 (at Full load)
≧ 0.97 (at Full load)
GENERAL
Efficiency
≧74% (at Full load)
≧81% (at Full load)
≧84% (at Full load)
≧83% (at Full load)
≧84% (at Full load)
≧84% (at Full load)
Dimensions
(WxHxD, mm)
430x88x500
430x176x500
Net Weight
15kg
28kg
Current Firmware Version :
HOST:V1.03.01 DSP:V1.03.01 UI:V1.01.00